Firefighting: A look at the Global Supertanker and those hotshots you hear about
Fire season is back, and the state is calling into action the Supertanker. Here's a look at firefighting, from the jumbo jet to the boots on the ground.
In the air
The Boeing 747-400 Global Supertanker, first used in California in September 2017, and was contracted again to assist firefighters this month. The U.S. Forest Service is waiting for a software upgrade to use it as well. The aircraft, stationed at McClellan Air Force Base outside Sacramento, is the latest and largest in aerial firefighting.Known as "The Spirit of John Muir," it can drop about 19,200 gallons of fire-dousing liquid, nearly twice as much as the next largest plane.Its ground reload time is approximately 30 minutes.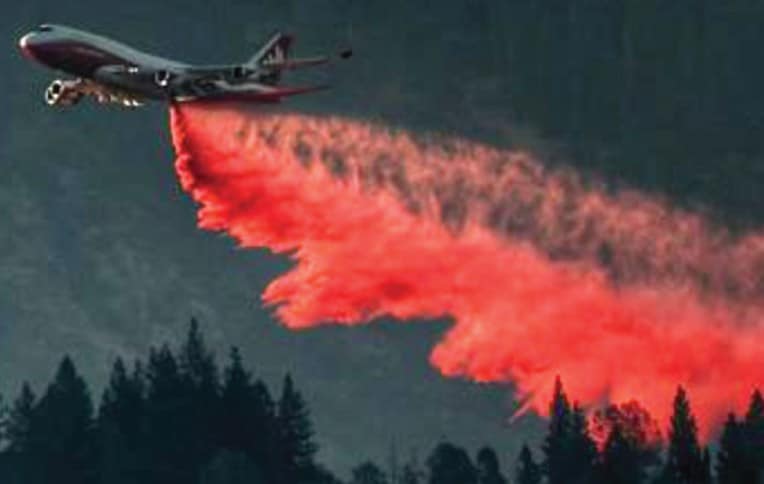 The retardant used to slow the spread of a fire is a slurry mix of a chemical salt, water, clay or a gum-thickening agent, and a coloring agent. The 747 can carry 172,800 pounds of the substance, which weighs 9 pounds per gallon.
In 2017, Cal Fire estimated 17.15 million gallons of retardant were used across the state during 12,218 plane hours.
Traveling 600 mph, the Supertanker could be over Los Angeles within 35 minutes.
On the ground
Federal hotshot crews, fighting by hand on the front lines of forest fires, were established as part of the Civilian Conservation Corps in the Cleveland and Angeles national forests in the 1940s. The name is a reference to being in the hottest part of a fire. It originated with the first crews in Southern California.
There are about 100 hotshot crews across the country, and nearly half are in California. Crew members can be professional firefighters or temporary or seasonal hires. They're required to be available around the clock during fire season — which can last up to six months, the U.S. Forest Service says.
It takes a lot to be a hotshot
Working days on the line and carrying a 45-pound pack and equipment aren't for everyone. Because of the long hours and hard work, hotshots need to be in top physical shape. All crew members must pass an "arduous level fitness test" that includes some of the following:40 situps in a minute.25 pushups in a minute1.5 mile run in less than 10:35.They train and work out at least one hour, five days a week.
Source: U.S. Forest Service
Their specialty is wildfire suppression, but hotshots are also assigned other tasks, the Forest Service says:Search and rescue missionsDisaster responseThinning and habitat improvementTrail construction
The primary tool the hotshots use is the Pulaski, named for a legendary firefighter that invented the combination ax and hoe.